This class is open to ALL machine quilters of ALL skill levels!
This is the cutest pillow I have seen for a very long time and it is a great gift idea! To view photos Click Here
I heard about this design a few years ago on an email chat list I belong to and I made about six or seven of these for Christmas gifts for Grandchildren and other children in the family.
The applique - and the quilting - are ALL done on a longarm quilting machine!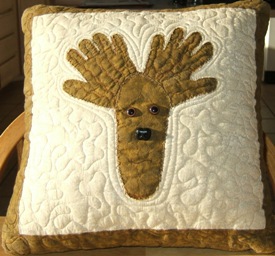 This was a FUN project - when the whole family was together at Thanksgiving, I took all the kids aside and drew around their hands and feet. I didn't tell them what I was going to use the hand and foot prints for, but they had a good time trying to guess about it!
Then I took their hand and foot prints and made them into these charming - and fairly quick - pillow tops and appliquéing the pieces in place on the quilting machine. The finished pillows were given to the kids on Christmas - and they loved them and the adults loved them too! Even now, a few years later, my grandkids still use their reindeer pillows and my one grandson will not go to sleep without his pillow!
The photo at the right is my Grandson Nathan's Reindeer Pillow. The pillow was made in 2008 when he was 2 years old.
Click on any photo for a larger view and slide show.
To register for this FREE class Click Here
Note: I do not know who originally designed this pattern. If you know who it is, please let me know. I would like to formally acknowledge them.
If you would like more information on "hand print art" you can do an internet search or Click Here to go to Amazon.com to view information about hand print art quilt books.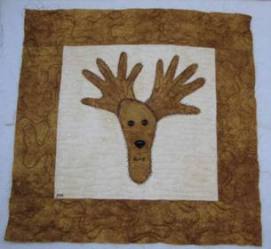 Once your pillow top is quilted, it is ready to be made into a completed pillow.
If you would like to learn the EASY way to turn this cute pillow top into a pillow Click Here
Here is a photo of the project we will be working on in the FREE Online Class.
You will learn how to make and place the appliqué pieces, stitch the background fill in stitching patterns and learn the Free Hand Zig Zag stitching which is around the edges of the fused appliqué.
---
The photos below show the progression of this project.
Click on any photo for a larger view and a slide show
---
Jean R of Georgia sent the photos below of the pillows she made from her six moth old Grand Daughter's hand and foot prints. She will be sending these pillows to her son who is in the military overseas. I love the "bling" on the girl reindeer!
Here is the "rest of the story" about the Reindeer Pillows in Jean's photos.
I received an email from Jean R. on December 26, 2010. In it were photos of the Reindeer Pillows she made from the the hand and foot prints of her six month old Granddaughter that she sent to her son who was in the military overseas.
With her permission, I am posting both the story and photos.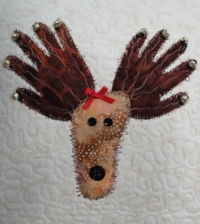 Jean writes -
"My son opened the package in front of some of his soldiers and they all said... "I can't believe your mom sent you a reindeer pillow"...and other general kidding comments.
Then he read them the poem I wrote and sent with the pillow.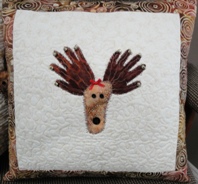 'Twas the night before Christmas and all through the base,
not a soldier was stirring 'cause your stuck in this place.
The reindeer are ready to start on their trip,
and Santa's so happy he's ready to skip!
In his big bag is a treasure for you,
Hailey's hand print and foot print,
love from mom and dad, too.
A pillow from her brings her close to your heart,
a smile on your face while you're so far apart.
Hug this each day and you will receive,
all the love that we have, we can't wait for your leave!
There was a huge, collective "AWWWWWW" and nothing else was said. Bet they all wish their moms had sent reindeer pillows!!!!!"
---
---
Class Registration
This is a FREE CLASS!!!
As soon as your registration is completed you will be able to view the class video!
You will have 30 (thirty) days of unlimited, 24/7 access to this online class. After 30 days you will have to re-register for the class.
---
After you register for this class you will be taken to a Welcome Page where links to the "Class Parts" of the Reindeer Pillow Top class are listed. Simply click on the Class Part you would like to view.
---
Reindeer Pillow Top DVD Only
If you can't view videos online, or you would like to have a personal copy of this class, you can purchase this class as a DVD!
Postage is included in the cost of the DVD!
---