This class is open to ALL machine quilters!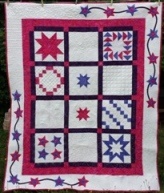 I have been a longarm quilter for over 20 years and when I started machine quilting - way back in the "dark ages" - the only free hand quilting pattern that was being done was traditional stippling!
In 2001 I wrote my book "Free Hand Sampler" which included many, new at that time, free motion quilting patterns. (This book is still available. For details Click Here)
Fast forward to today! After nearly six months of work, my new, Free Hand Sampler V2 online video class is OPEN!!!
Click on the photo above for a larger, more detailed view
I have totally updated the original Free Hand Sampler class project, add a TON more quilting for a total of over 56 quilting designs / patterns ALL DONE FREE HAND!!!
For photos of the designs / patterns in this class Click Here
To register for this class Click Here
---
---
FREE HAND quilting is a mainstay of ANY machine quilter. If you quilt as a business - or are thinking of quilting as a business - or you quilt only for yourself or for a charity YOU NEED THIS CLASS!!!
Many of these patterns / designs can be used as an all-over "free hand pantograph" and you can get your quilting done in a fairly short period of time.
Included are -
"Easy Peasy" designs -
(click on the pattern title to view photo. Use your "Back" button to return)
Intermediate designs
More Complex designs
And MANY, MANY more patterns!!
Also included are patterns / designs for sashings and cornerstones.
This online class even answers the question of "what DO I quilt behind applique?" Cindy shows you several versatile "go to" patterns (#51) to quilt behind applique AND she shows you how to do free hand Blanket Stitch (#55) AROUND the applique!!
Even if you have a computerized quilting system, you need to know some basic free hand designs. There are times and places that a little bit of free hand quilting is faster than computerized and free hand quilting can fit into "interesting" spaces better!
With 56 free hand patterns / designs, you will not have to struggle with the quilter's eternal question of "What do I quilt on this quilt!"
A note from Cindy - I have used ALL of the patterns / designs in this class on my own quilts, on quilts for charities and on my customer quilts! These are my "tried and true" favorite free hand / free motion quilting designs!
To Register for this class Click Here
For the Supply List for this class Click Here
If you would rather have a DVD ONLY of this class Click Here
---
---
Class Fee - $45.95 (USD) For a Limited Time!
This online class, which shows step-by-step how to quilt your class project, along with the piecing pattern and video piecing instructions is only $45.95! (USD)
AND, with your online class registration, at NO additional charge, a FOUR disk DVD set along with the piecing instructions will be sent to you. Please allow 2 - 3 weeks for DVD delivery.
As soon as your registration is completed you will be able to view the class video!
You will have 60 (sixty) days of unlimited, 24/7 access to this online class
---
Class Registration Instructions
This is a SECURE class registration system!
---
After you register for this class you will be taken to a Welcome Page where links to the "Class Parts" of the Free Hand Sampler V-2 class are listed. Simply click on the Class Part you would like to view.
---
---
Free Hand Sampler V-2 - DVD ONLY
Price includes DVD and any printed class material.
NOTE: You will NOT have access to the online class.
---
Special Offer #1
Free Hand Sampler V-2 DVD AND
Free Hand Sampler Book & Practice Sheets
Special Price of only $55.95!!! For details Click Here
---