This class is open to ALL machine quilters of ALL skill levels!
For the past few years, I have had the pleasure of being a contributor to the Fresh Ideas column in On Track! magazine.
Here is how the Fresh Ideas column works - a quilt (pieced) pattern is sent to the column contributors - usually three quilters - and we are to come up with a quilting design, in our own quilting style, that we would put on this quilt if it were our own or a customer quilt.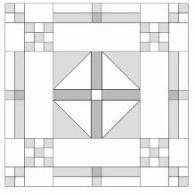 For the Spring 2010 issue, the quilt that was sent was a variation of the Burgoyne Surrounded quilt. (See illustration at the left.)
It did take me a little while to come up with a pleasing quilting design. With the permission of On Track! magazine, I have pieced the quilt top and created a FREE video class of how I quilted it.
To view photos of the completed quilting Click Here
To register for this FREE class Click Here
As a professional longarm quilter for 15 years, I have developed my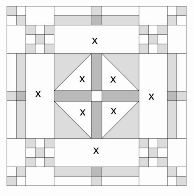 own style of quilting. One of my "trademarks" is to have as FEW starts and stops as possible. In this Burgoyne Surrounded variation quilt, I figured out how to quilt the background of the block - the spaces with the X on the illustration at the right - with only 2 starts and stops! Actually, if I didn't have to move the camera during recording, I could quilt the background area of the block with only ONE start and stop!
If you would like to see the details of how I stitched this quilt pattern, please sign up below to attend the FREE class I have created.
---
Here are photos of the quilting I did on this quilt.
Click on any photo for a larger view and a slide show
---
---
A piecing pattern for this quilt top is available for purchase.
For details on the piecing pattern Click Here
---
Class Registration
This is a FREE CLASS!!!
As soon as your registration is completed you will be able to view the class video!
You will have 30 (thirty) days of unlimited, 24/7 access to this online class. After 30 days you will have to re-register for the class.
If you have NEVER attended a
Longarm Classroom class
Click Here
Registration Instructions:
Choose the class(es) you want to attend and fill out the form to complete your registration.
If you HAVE attended a
Longarm Classroom class before
Click Here
Registration Instructions:
1) Enter your user name and password
2) At the top of the page, click on
Add/Renew Subscription
3) Choose the class(es) you want to attend and click NEXT.
3) Under the chart, click the BLUE highlighted word "Here" to view the class.
---
After you register for this class you will be taken to a Welcome Page where links to the "Class Parts" of the On Track - Burgoyne Surrounded Variation class are listed. Simply click on the Class Part you would like to view.
---
Burgoyne Surrounded Piecing Pattern Only
Burgoyne Surrounded Variation piecing pattern ONLY!
Note: This pattern is NOT included in the FREE Class!
---
On Track! Burgoyne Surrounded DVD Only
If you can't view videos online, or you would like to have a personal copy of this class, you can purchase this class as a DVD!
Postage is included in the cost of the DVD!
---